RHODE AWARDED WITH CALL SCHOLARSHIP FROM HEREFORD YOUTH FOUNDATION OF AMERICA
October 26, 2021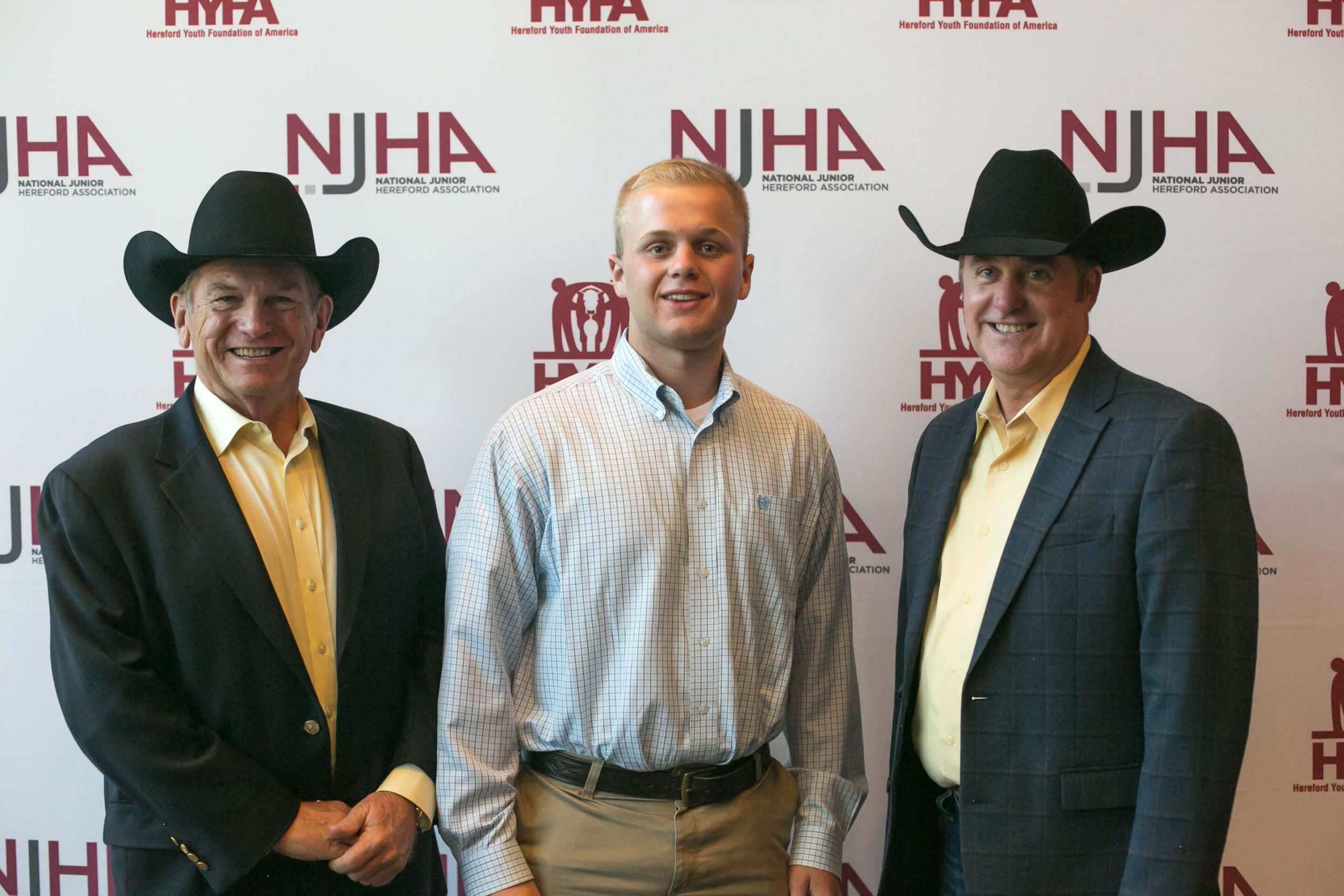 Pictured (l to r) are Bill King, HYFA board of directors, Isaac Rhode, Stewartsville, Mo., and Ray Ramsey, HYFA president.
KANSAS CITY, Mo. — High achieving Hereford youth were awarded numerous scholarships during the 2021 American Hereford Association Annual Meeting and Conference in Kansas City, Mo., on Oct. 22. In a special awards ceremony, the Hereford Youth Foundation of America (HYFA) and its army of donors proudly awarded $160,000 in scholarships to 24 National Junior Hereford Association members to help support their higher-education goals.
The 2021 CBY Polled Herefords, Bob & Dolores Scholarship Call sponsored by HYFA is a $5,000 scholarship offered in honor of Dolores Call and her late husband, Bob. Bob was a founding member of the HYFA board of directors and an integral part of building the foundation for the scholarship programs it now provides.
Isaac Rhode from Stewartsville, Mo., is the $5,000 CBY Polled Herefords, Bob & Dolores Call Scholarship winner. He is a freshman at the University of Missouri-Columbia. He has a desire to be part of something bigger than himself, exemplifying this quality through his role as an officer of the Missouri Junior Hereford Association, FFA and his local 4-H club. Thinking about his future he stands firm in the decision to pursue a degree in animal science and a career in agriculture. The coronavirus pandemic brought the production of the nation's food supply to the forefront and emphasized the important role America's farmers and ranchers play in the food supply chain. The events of the last two years have made him more certain his future lies in agriculture.
The scholarship fund is the cornerstone of HYFA and countless youth are the benefactors of its mission. This last fiscal year, the foundation celebrated net assets reaching an all time high of 5.4 million dollars and $186,000 was given back to Hereford youth to assist with their college educations.
###
The Hereford Youth Foundation of America (HYFA) was established in 1986 and is a not-for-profit 501(c)(3) corporation dedicated exclusively to scholarship and educational support of youth in the business of raising Hereford cattle. The mission of the Hereford Youth Foundation of America is to encourage, recognize and reward the development of life skills and values in the next generation of leaders by providing education, scholarship and leadership opportunities for Hereford Youth.