COX AND DENTON AWARDED $5,000 EE RANCHES SCHOLARSHIPS
October 26, 2021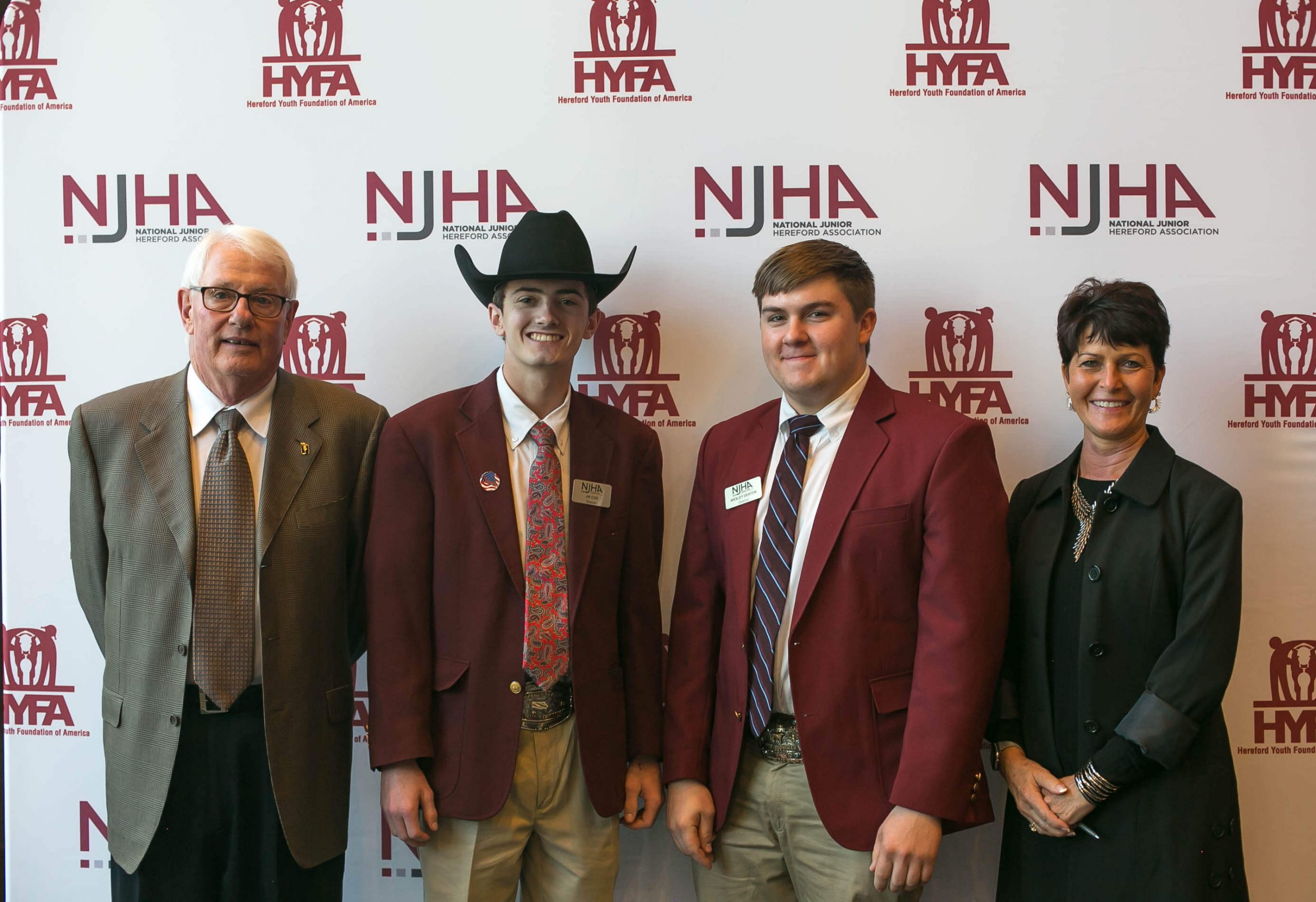 Pictured (l to r) are George Sprague, HYFA scholarship committee, JW Cox, Flemingsburg, Ky., Wesley Denton, Blue Rapids, Kan., and Jill Bielema, HYFA scholarship committee.
KANSAS CITY, Mo. — High achieving Hereford youth were awarded numerous scholarships during the 2021 American Hereford Association Annual Meeting and Conference in Kansas City, Mo., on Oct. 22. In a special awards ceremony, the Hereford Youth Foundation of America (HYFA) and its army of donors proudly awarded $160,000 in scholarships to 24 National Junior Hereford Association members to help support their higher-education goals.
EE Ranches annually sponsors two $5,000 scholarships through HYFA. These scholarships are made possible by Jo Ellard and her late husband, Bill, of Texas. EE Ranches was one of HYFA's first scholarship endowments and has assisted many youth achieve their goals since its inception. The recipients of the EE Ranches scholarships are John Cox, Flemingsburg, Ky., and Wesley Denton, Blue Rapids, Kan.
John Cox is a junior at Western Kentucky University, majoring in animal science with a concentration in pre-veterinary advisement. He currently works at two different farms while also focusing on his academics. He hopes to pursue veterinary school after his undergraduate completion. He makes it a point to always make sure he remains positive no matter the situation or the crowd, because he believes there is no greater way for a leader to make an impact than to give others a sense of positivity and put a smile on their face.
Wesley Denton is a sophomore at Kansas State University, majoring in animal sciences and industry. His goal after college has always been to have a career in the beef industry, working in the protein business as a cattle buyer or beef merchandiser. His ultimate goal is to return home to Blue Rapids as a fourth-generation Hereford breeder and help manage, expand and carry on his family's cattle and farming operation.
The scholarship fund is the cornerstone of HYFA and countless youth are the benefactors of its mission. This last fiscal year, the foundation celebrated net assets reaching an all time high of 5.4 million dollars and $186,000 was given back to Hereford youth to assist with their college educations.
###
The Hereford Youth Foundation of America (HYFA) was established in 1986 and is a not-for-profit 501(c)(3) corporation dedicated exclusively to scholarship and educational support of youth in the business of raising Hereford cattle. The mission of the Hereford Youth Foundation of America is to encourage, recognize and reward the development of life skills and values in the next generation of leaders by providing education, scholarship and leadership opportunities for Hereford Youth.