MITCHEM RECEIVES PRESTIGIOUS GARY BISHOP MEMORIAL SCHOLARSHIP
October 26, 2021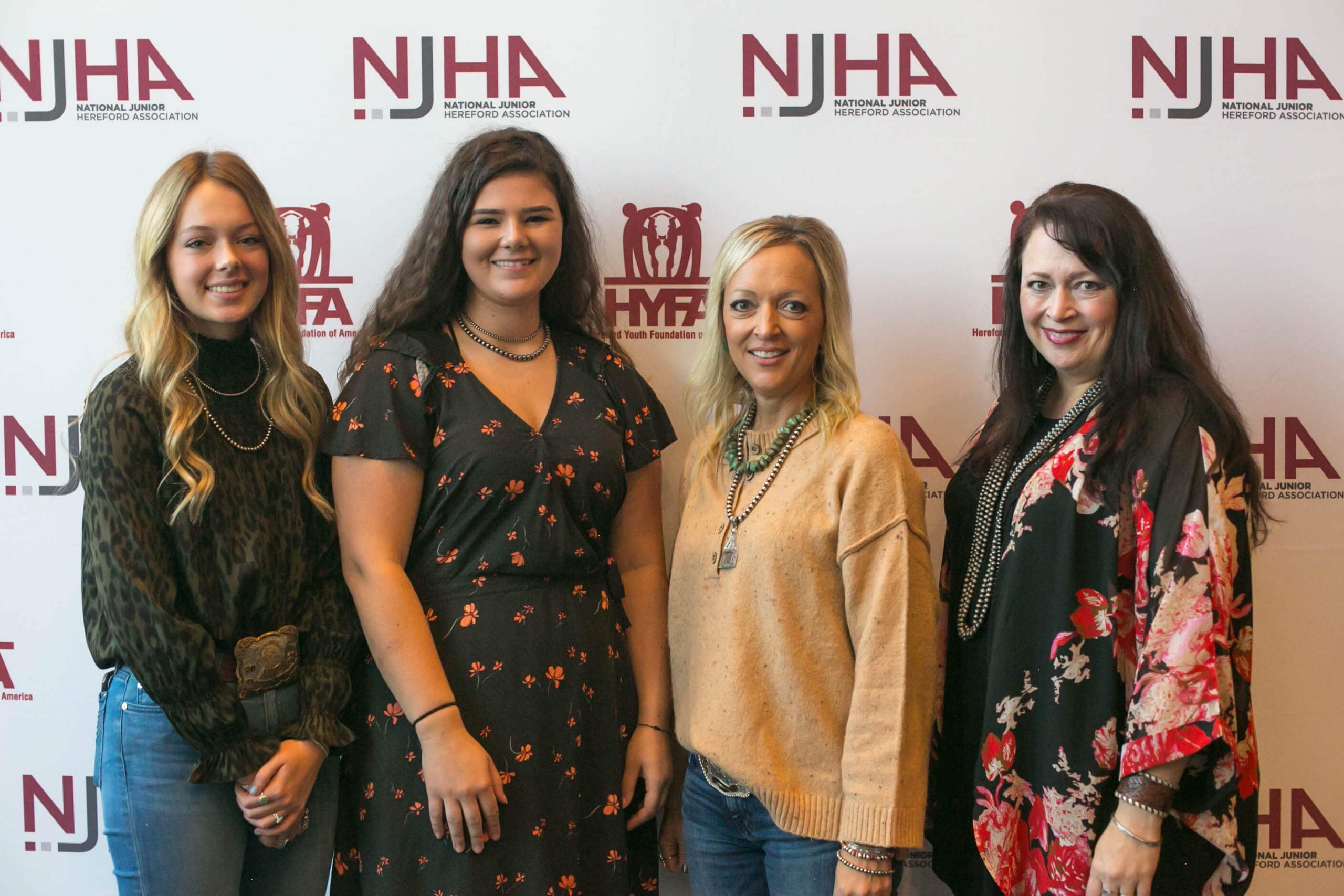 Pictured (l to r) are Maddie Weaber, Wamego, Kan., Regan Mitchem, Vale, N.C., Tami Weaber, Wamego Kan., and Jodi Jordan, Rensselaer, Ind.
KANSAS CITY, Mo. — High achieving Hereford youth were awarded numerous scholarships during the 2021 American Hereford Association Annual Meeting and Conference in Kansas City, Mo., on Oct. 22. In a special awards ceremony, the Hereford Youth Foundation of America (HYFA) and its army of donors proudly awarded $160,000 in scholarships to 24 National Junior Hereford Association members to help support their higher-education goals.
The Gary Bishop Memorial scholarship given on behalf of HYFA is a $2,500 scholarship in memory of Gary Bishop. The Oklahoma native first began working for the AHA in 1973 serving in the capacities of assistant director of Total Performance Records, director of feedlot and carcass programs and director of field services. He also served as director of youth activities, which was a job he held in high esteem throughout his life. He dedicated much of his energy working for the betterment of the Hereford youth organization. The scholarship is awarded to a deserving member of the National Junior Hereford Association to continue financing their college education.
Regan Mitchem from Vale, N.C., was awarded the $2,500 Gary Bishop Memorial Scholarship. Regan is a junior in animal science, with a pre-veterinary focus at North Carolina (NC) State University. She aspires to attend the NC State College of Veterinary Medicine and then return home to expand her mom's small animal veterinary practice to include more livestock reproductive services. In veterinary school she will focus on livestock reproduction, using her personal experience in the cattle industry, veterinary internships, practice, and research experiences to meet the need for veterinary reproductive services.
The scholarship fund is the cornerstone of HYFA and countless youth are the benefactors of its mission. This last fiscal year, the foundation celebrated net assets reaching an all time high of 5.4 million dollars and $186,000 was given back to Hereford youth to assist with their college educations.
###
The Hereford Youth Foundation of America (HYFA) was established in 1986 and is a not-for-profit 501(c)(3) corporation dedicated exclusively to scholarship and educational support of youth in the business of raising Hereford cattle. The mission of the Hereford Youth Foundation of America is to encourage, recognize and reward the development of life skills and values in the next generation of leaders by providing education, scholarship and leadership opportunities for Hereford Youth.