National Hereford Women Endow Fund for Ostgaard-Breiner Scholarships
November 1, 2021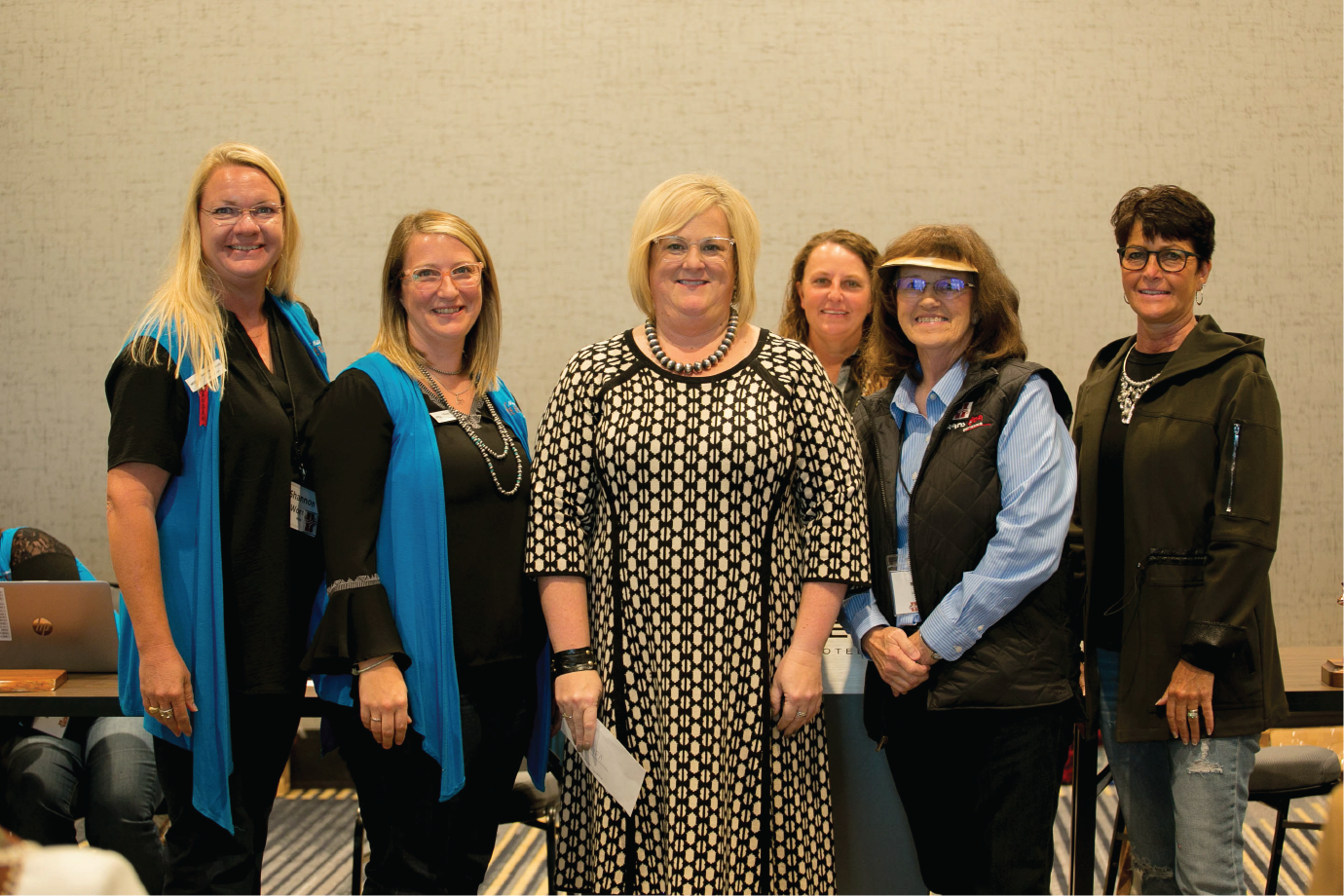 From left to right: Shannon Worrell, Mason, Texas; Allison May, Greenfield, Ind.; Amy Cowan, Kansas City, Mo., AHA Director of Youth Activities and Foundation; Dana Pieper, Zurich, Kan.; Kathy Buchholz, Waxahachie, Texas; and Jill Bielema, Ada, Mich.
KANSAS CITY, Mo. — During the annual membership meeting, the National Hereford Women (NHW) presented a $63,000 check to the Hereford Youth Foundation of America (HYFA) to kickstart a scholarship endowment that will fund two new Ostgaard-Breiner Scholarships. The first $1,500 scholarships will be presented this summer during the 2022 Junior National Hereford Expo (JNHE) in Louisville, Ky. The educational scholarships are designed specifically for non-traditional students who may be returning to college after some time off or who are pursuing a higher education in a technical field, graduate school, trade school, certification or other acceptable program.
This new endowment will honor two NHW board members who passed away in 2019 and left their leadership legacy within the women's organization. Sandra Ostgaard, Dayton, Ohio, was incredibly active in the Hereford breed. In addition to serving on the NHW board, she also served as the Ohio Hereford Women President and as an Ohio Hereford Junior Advisor. She grew up showing Herefords and passed her love of the breed to her children and grandchildren. Sandra was a retired teacher who taught high school home economics and elementary grades and held education of all forms in high regard.
Callea Mae Breiner, Alma, Kan., was not only active on the NHW board, but was also active in the Kansas Hereford Association and served as a local community 4-H Club Leader. Her love for the Hereford breed continues to be carried on by her husband and sons. Callea was an advanced practice registered nurse and had a love to learn as reflected through her successful pursuit in receiving her doctorate degree.
Applications will be due April 15 on www.submittable.com and applicants must be a member or have a family member in the NHW, American Hereford Association (AHA) or National Junior Hereford Association (NJHA).
###
​​
The Hereford Youth Foundation of America (HYFA) was established in 1986 and is a not-for-profit 501(c)(3) corporation dedicated exclusively to scholarship and educational support of youth in the business of raising Hereford cattle. The mission of the Hereford Youth Foundation of America is to encourage, recognize and reward the development of life skills and values in the next generation of leaders by providing education, scholarship and leadership opportunities for Hereford Youth.