Denton Receives CBY Polled Hereford Scholarship
October 23, 2022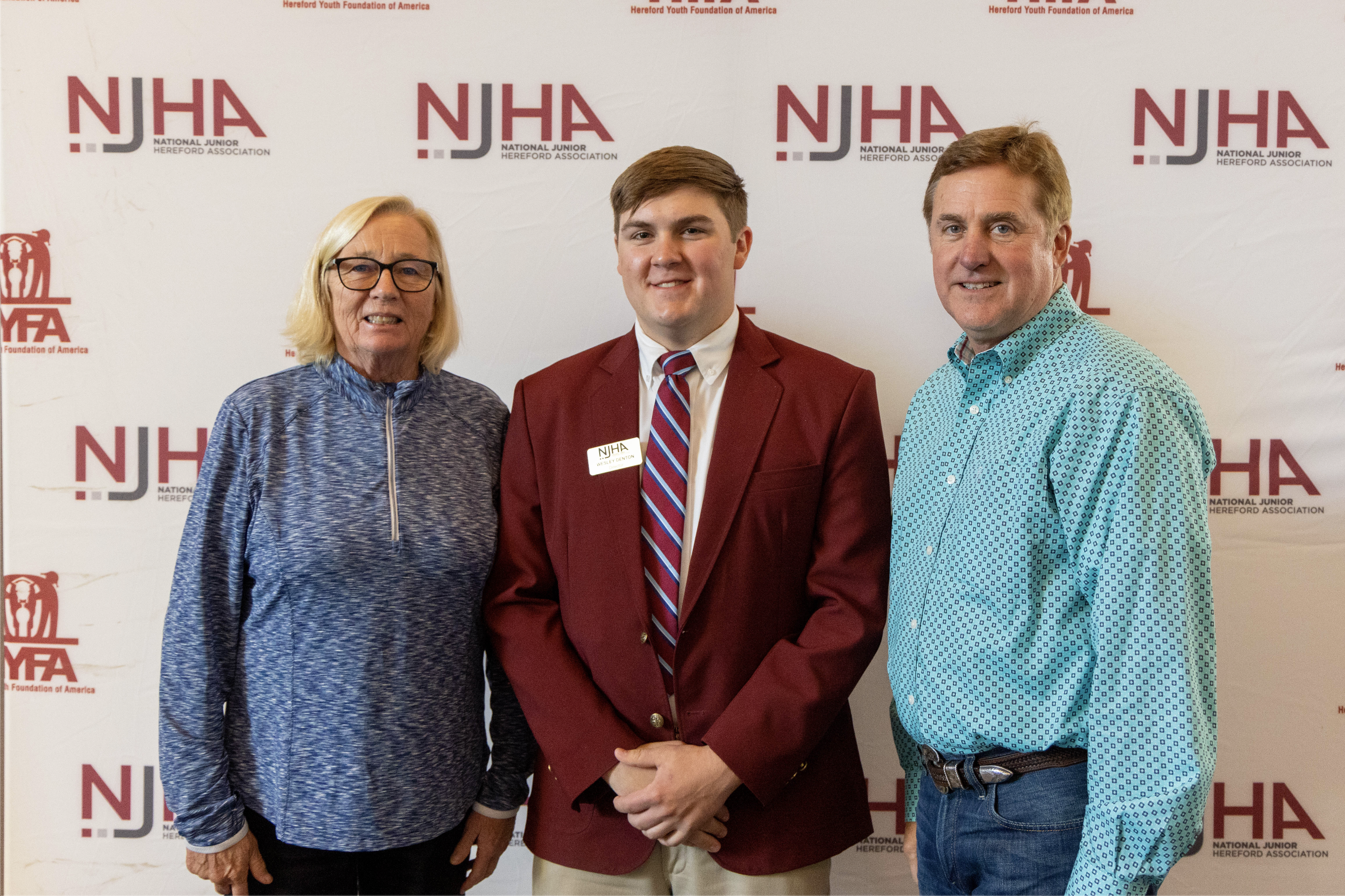 HYFA Scholarship Committee member, Nancy Keilty, Cedar, Mich., presents Wesley Denton, Blue Rapids, Kan., with his $5,000 scholarship, along with HYFA Board President, Ray Ramsey, Greenfield, Ind.
KANSAS CITY, Mo. — High achieving Hereford youth were awarded numerous scholarships during the 2022 American Hereford Association Annual Meeting and Conference in Kansas City, Mo., on Oct. 21. In a special awards ceremony, the Hereford Youth Foundation of America (HYFA) and its donors proudly awarded $165,000 in scholarships to 28 National Junior Hereford Association (NJHA) members to help support their higher-education goals.
The 2022 CBY Polled Herefords, Bob and Dolores Call Scholarship, sponsored by HYFA, is a $5,000 scholarship offered in honor of Dolores Call and her late husband, Bob. Bob was a founding member of the HYFA board of directors and an integral part of building the foundation for the scholarship programs it now provides.
Wesley Denton, Blue Rapids, Kan., is a junior at Kansas State University majoring in animal sciences and industry. The son of Angie and John Denton, his goals are to pursue a career in the meat industry, something he has already started with his 2022 summer internship with Cargill Inc. Because of this involvement he says, "transparency or proper labeling is important with plant-based imitation meats and cell-cultured protein, also known as lab-grown meat," and is something the industry should focus on moving forward.
The scholarship fund is the bedrock of HYFA and countless youth are the benefactors of its mission. This last fiscal year, the foundation celebrated net assets reaching nearly $5 million and in total $185,000 was given back to Hereford youth to assist with their college educations.
###
The Hereford Youth Foundation of America (HYFA) was established in 1986 and is a not-for-profit 501(c)(3) corporation dedicated exclusively to scholarship and educational support of youth in the business of raising Hereford cattle. The mission of the Hereford Youth Foundation of America is to encourage, recognize and reward the development of life skills and values in the next generation of leaders by providing education, scholarship and leadership opportunities for Hereford Youth.