The 2023 Sale of Champions Sets the Pace For Upcoming Junior National Hereford Expo
February 23, 2023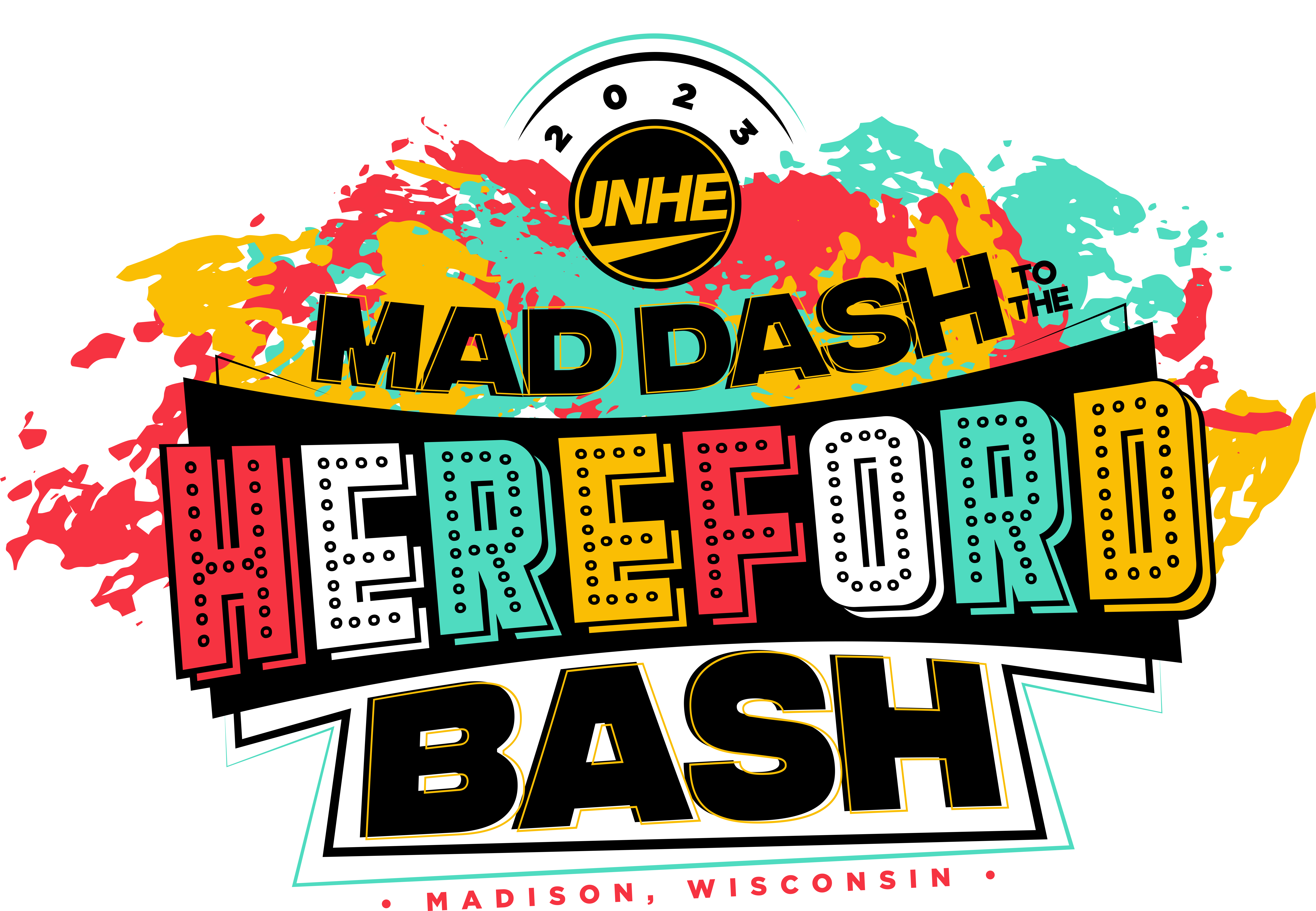 KANSAS CITY, Mo. — Now in its fourth year, the Sale of Champions is designed to benefit the upcoming Junior National Hereford Expo (JNHE), offering donation genetic lots from past champions and unique items only available once throughout the year. After the final online bids were placed on Feb. 21, The 2023 Sale of Champions generated an all time high of $64,000 of financial support for the "Mad Dash to the Hereford Bash," and the JNHE in Madison, Wis., that will take place in Madison, Wis., July 8-14.
The Hereford Youth Foundation of America (HYFA) and the National Junior Hereford Association (NJHA) partnered to host this online sale on AgSaleDay.com and the NJHA Board of Directors were instrumental in helping to manage this online event, giving them real world marketing and leadership experience. The Sale of Champions is a marketing platform for JNHE exhibitors and their families to give back to the association. "There is no greater gift that you can give a young girl or boy in this industry than your complete support and encouragement, and that is what the JNHE has given me," said Fallon Gohr, NJHA member and Sale of Champions consignor from Madras, Ore. "My family and I will forever be grateful for our involvement in the NJHA and we were excited for the chance to give back to an association we love."
Topping the sale was lot 24 and the lifetime membership to the HYFA Foundation Club. The elite membership was purchased for $15,050 by George Sprague from Eugene, Ore. The top selling genetic lot was a pick of the MC Show Cattle donor pen flush consigned by Madeline and Carlisle Braman, Refugio, Texas. This unique opportunity was purchased for $5,600 by T/R Cattle Co., Glencoe, Okla.
HYFA is founded on four pillars: scholarship, leadership, education and research. The JNHE falls directly in line with education, providing opportunities for junior members across the country to gain hands-on skills as leaders and changemakers in the Hereford breed. HYFA began the Growing a Lasting Legacy Campaign in 2013 and since then the Legacy fund has been fundamental in the production of each year's JNHE. Giving through the Growing a Lasting Legacy campaign, and online sales such as this one, provide opportunities for breeders, supporters and family to support the youth of the Hereford breed.
Thank you to the following donors and buyers for contributing to the 2023 Sale of Champions:
Donors
MC Show Cattle, Refugio, Texas
Bar A Cattle, Schulenburg, Texas
Barber Ranch, Channing, Texas
Buck Cattle, Madill, Okla.
Gohr Cattle, Madras, Ore.
Hawk Livestock, Earlville, Ill.
GKB Cattle, Desdemona, Texas
Hoffman Ranch, Thedford, Neb.
Kemp Family Livestock, Renfrew, Ontario
Wildcat Cattle Company, Darlington, Wis.
C&L Hereford Ranch, Ixonia, Wis.
Krebs Cattle Company, Gordon, Neb. and Copeland & Sons, Nara Visa, N.M.
Trans Ova Genetics
Halstrum, LLC & LubriSyn, Simpsonville, Ky.
Martha & Pat Simmons, Genetics Leaders International
Sale Day
Buyers
Trent Ray
John Starnes
Thomas Hughes
David Taylor
Ryan Chapman
Nathan Suttles
Brandi Murphee
Michael Harless
Andy Suchan
Hollis Gilfillian
Charles Badertscher
Shelley Sweatman
Aiden Kleinman
Beau Ann Graves
Meredith Collins
JW Cox
Freking/May
Crissy Barron
Eric Katzenberger
George Sprague
Steven Green
Jeff Rhode
Anna Krueger
Steve Billman
Jessica Storey
Keysto & Miranda Stotz
James Story
Melissa Grimmel-Schaake
Chris Happ
Michelle Grimmel-Wolfrey
Corey Ruff
Gary Dorrell
Matt & Alyssa Copeland
Curtis Curry
Jarrod Gillig
Thank you to the Hereford family for contributing to each of the various ways we support the youth of the Hereford breed through the foundation. To learn more about giving to the Growing a Lasting Legacy Campaign or making a donation, please visit Herefordyouthfoundation.org.
###
The Hereford Youth Foundation of America (HYFA) was established in 1986 and is a not-for-profit 501(c)(3) corporation dedicated exclusively to scholarship and educational support of youth in the business of raising Hereford cattle. The mission of the Hereford Youth Foundation of America is to encourage, recognize and reward the development of life skills and values in the next generation of leaders by providing education, scholarship and leadership opportunities for Hereford Youth.