Scholarship from Larson Polled Herefords Awarded to Jones
October 23, 2022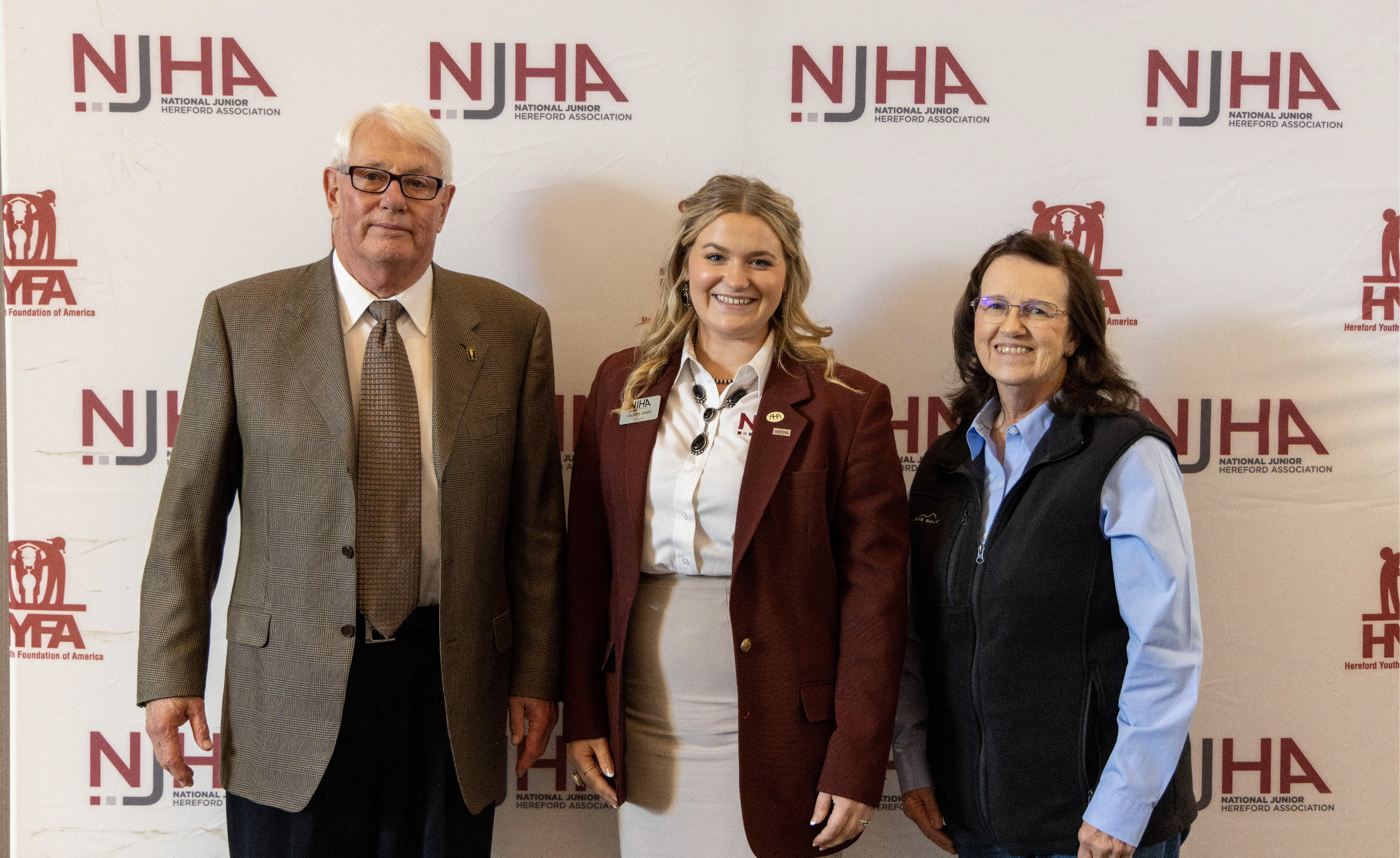 George Sprague, Eugene, Ore., of the HYFA Scholarship Committee alongside scholarship recipient Lauren Jones, Darlington, Wis., with Kathy Buchholz, Waxahachie, Texas, of the HYFA Board of Directors.
KANSAS CITY, Mo. — High achieving Hereford youth were awarded numerous scholarships during the 2022 American Hereford Association Annual Meeting and Conference in Kansas City, Mo., on Oct. 21. In a special awards ceremony, the Hereford Youth Foundation of America (HYFA) and its donors proudly awarded $165,000 in scholarships to 28 National Junior Hereford Association (NJHA) members to help support their higher-education goals.
The 2021 Larson Polled Herefords Scholarship, sponsored by HYFA, is a $2,500 scholarship awarded annually in honor of Ken and Carolyn Larson of Texas, who are longtime supporters of Hereford youth and purchased the first foundation female sold at the Mile High Night Sale in Denver, Colo. This purchase initiated a fundraising effort that over the years has grown to $1 million dollars to support youth and education.
Lauren Jones of Darlington, Wis., is in her sophomore year at Oklahoma State University, where she is double majoring in animal science and agricultural communications. She is currently serving her second term on the NJHA board of directors, and strives to be successful by "maximizing her potential and accomplishing the goals set for herself." She attributes the leadership skills she has developed over the years and the opportunities she's had to the NJHA.
The scholarship fund is the cornerstone of HYFA and countless youth are a benefactor of its mission. This last fiscal year, the foundation celebrated net assets reaching nearly $5 million and in total $185,000 was given back to Hereford youth to assist with their college educations.
###
The Hereford Youth Foundation of America (HYFA) was established in 1986 and is a not-for-profit 501(c)(3) corporation dedicated exclusively to scholarship and educational support of youth in the business of raising Hereford cattle. The mission of the Hereford Youth Foundation of America is to encourage, recognize and reward the development of life skills and values in the next generation of leaders by providing education, scholarship and leadership opportunities for Hereford Youth.