Outstanding Hereford Juniors Recognized with Golden Bull Achievement Awards
July 31, 2023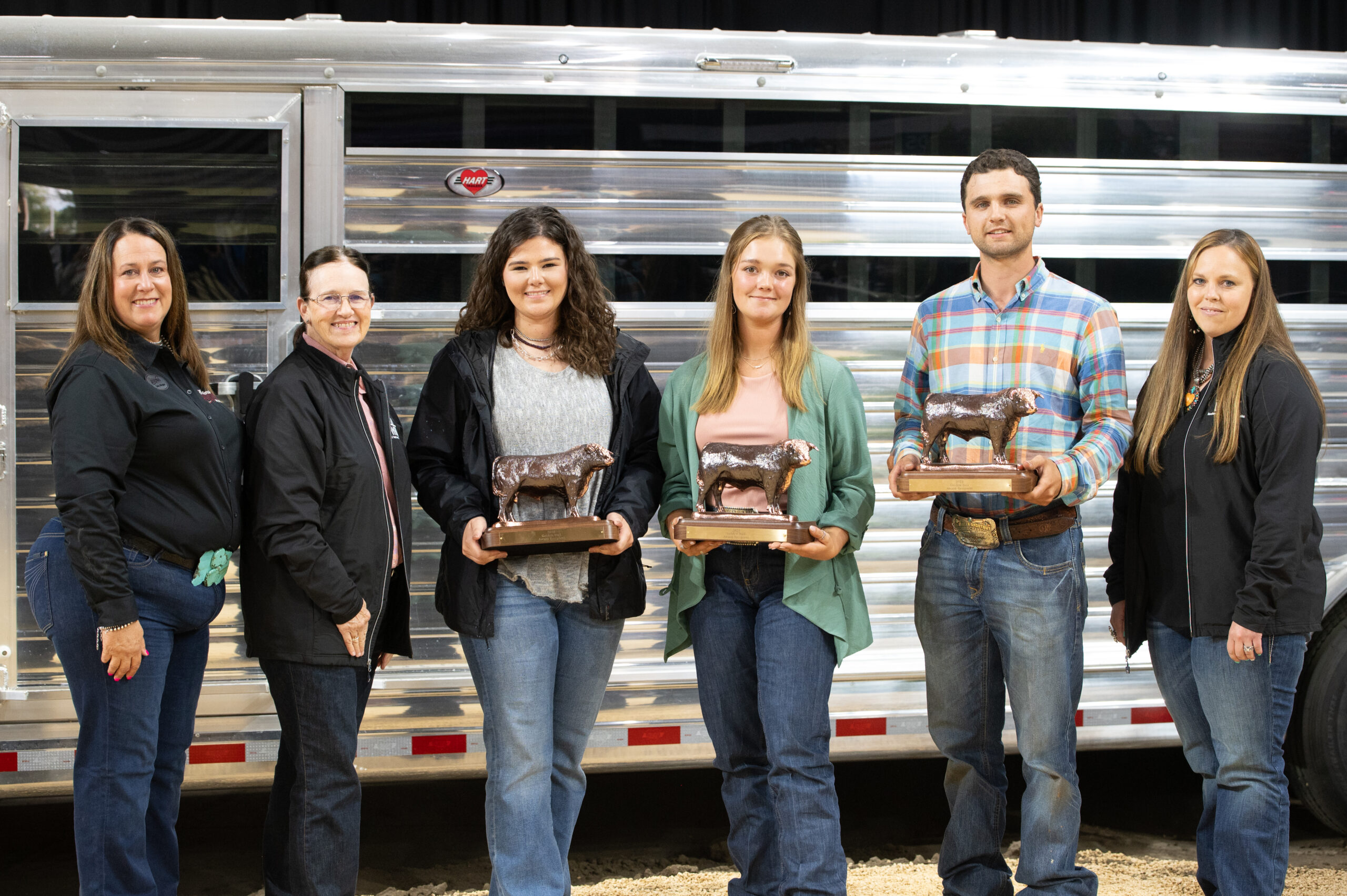 MADISON, Wis. — Three outstanding Hereford youth were awarded the Golden Bull Achievement Award during the 2023 VitaFerm® Junior National Hereford Expo (JNHE) Hereford Youth Foundation of America (HYFA) Scholarship, Award and Maroon Jacket Ceremony on July 13 in Madison, Wis.
The Golden Bull Achievement Awards are given to three collegiate students each summer. This is one of the most coveted honors awarded at the JNHE, as these youth not only receive a bronze bull, but also a $2,500 scholarship to assist with their education.
The following are the 2023 Golden Bull Achievement Award winners:
Luke Daniels, Dalhart, Texas
Kaylee Lunsford, Fort Scott, Kan.
Regan Mitchem, Vale, N.C.
Luke Daniels
Luke Daniels, Dalhart, Texas, is entering his senior year at Oklahoma State University this fall majoring in pre-veterinary animal science. Upon graduation, Daniels plans to attend veterinary school
with a focus in reproduction.
"You are never done learning," Daniels said. "The moment I learned that principle and accepted help from others, I grew in more ways than I could have imagined. As I attended my first JNHE running around the grounds with my friends, I never thought that the same program would propel me into a new level of opportunity like the National Junior Hereford Association (NJHA) has."
Daniels has served on the NJHA board of directors and competed in contests. He has exhibited the reserve commercial pen of steers in the NJHA Fed Steer Shootout, won multiple JNHE judging contests and the team fitting contest. He says there is no youth organization with a bigger "pay off" than NJHA, if you choose to invest your time in the Association.
Kaylee Lunsford
Kaylee Lunsford, Fort Scott, Kan., is a recent high school graduate with plans to attend Oklahoma State University (OSU), and double major in animal science and international agricultural leadership. Lunsford will be entering OSU with an associate degree from Bluefield University. She believes education is the first building block for success and says education has played a significant role
in the person she is today.
"With a career in international agriculture, I can fulfill my dream of dedicating my life to protecting and promoting this industry on a global scale," Lunsford said. Lunsford has found different ways to stay involved during her nine years in the National Junior Hereford Association. She enjoys educational and leadership programs within state and national Hereford associations. In 2016 she was a Ned and Jan Ward Junior AI Program winner, which allowed her to start her herd and connected her with who she considers her greatest mentor in the American Hereford Association. She has served as director at-large and vice president for the Oklahoma Junior Hereford Association. Lunsford won first-place intermediate illustrated speaker at the 2020 JNHE, and placed first in the junior illustrated speaking contest in addition to being a member of the first place junior judging team in 2019.
Regan Mitchem
Regan Mitchem, Vale, N.C., has been a member of the National Junior Hereford Association (NJHA) for 10 years. Following in her mother's footsteps she decided at the age of 12 that she wanted to start showing Hereford cattle. Since then, she has spent each year diving into leadership activities and growing her herd, and in turn, growing as a person. She is currently president of the North Carolina Junior Hereford Association.
"My quieter personality has not disappeared," Mitchem said. "But my level of confidence in who I am is far above what it was a few years ago. I have been able to grow as an individual, feel more confident in my abilities to succeed and found my intended career path through opportunities provided to me by 4-H, and the North Carolina and the National Junior Hereford Associations."
Mitchem finished her undergraduate degree in May at North Carolina State University and will begin classes in their College of Veterinary Medicine this fall as a member of the Food Animal Scholar Program. She plans to help improve the food animal medicine industry by assisting producers to have healthy herds that will be productive and efficient.
The Hereford Youth Foundation of America (HYFA) awarded $29,000 to outstanding Hereford youth at the 2023 JNHE and will award more than $200,000 throughout the year to deserving junior members to aid in their academic endeavors.
"HYFA is proud of its scholarship program," said George Sprague, HYFA Scholarship Committee. "It has grown tremendously over the last decade, with $200,000 in scholarships awarded annually. Equally gratifying, the quality and professionalism of the applicants vying for these awards improves each year. HYFA is confident that all the applicants will make substantial contributions to agriculture and the Hereford industry."
###
The Hereford Youth Foundation of America (HYFA) was established in 1986 and is a not-for-profit 501(c)(3) corporation dedicated exclusively to scholarship and educational support of youth in the business of raising Hereford cattle. The mission of the Hereford Youth Foundation of America is to encourage, recognize and reward the development of life skills and values in the next generation of leaders by providing education, scholarship and leadership opportunities for Hereford Youth.