NHW Provides Support for Faces of Leadership Scholarship
September 12, 2023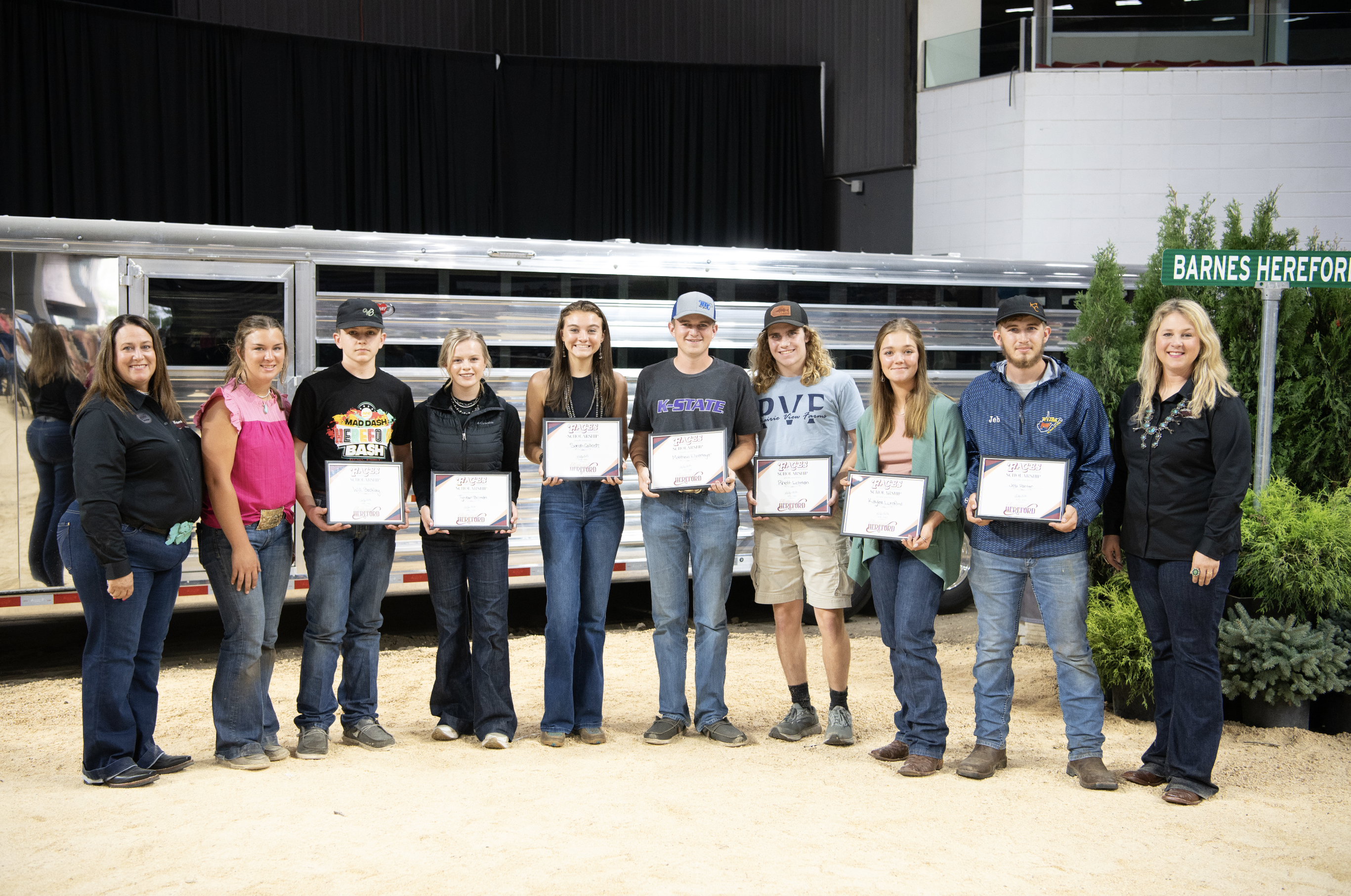 MADISON, Wis. — National Junior Hereford Association (NJHA) members received Faces of Leadership travel scholarships during the 2023 VitaFerm® Junior National Hereford Expo (JNHE) Hereford Youth Foundation of America (HYFA) Scholarship, Award and Maroon Jacket Ceremony on July 13 in Madison, Wis.

For the first time this year, National Hereford Women (NHW) awarded $400 travel scholarships at random to 11 young people attending the 2023 Faces of Leadership Conference. The NHW has worked hard to support Hereford juniors and ensure their future success. Through leadership development programs, such as the Faces of Leadership Conference, NHW encourages young people to further develop invaluable skills for their futures. These travel scholarship winners were randomly selected through a drawing process:
Will Beckley, Irvine, Ky.
Tymber Billman, Blackfoot, Idaho
Sarah Callicott, Only, Tenn.
Matthew Elzemeyer, Richmond, Ind.
Rhett Lehman, Sullivan, Ill.
Emma Lewis, Litchfield, Ohio
Kaylee Lunsford, Stillwater, Okla.
Jeb Painter, Gandeeville, W.V.
Caden Perry, Tower Hill, Ill.
Rainey Snedden, Maricopa, Calif.
Kendall Boatman, Rockford, Ill.
In addition to providing Faces of Leadership assistance, HYFA awarded $29,000 to outstanding Hereford youth during the 2023 JNHE and will award more than $200,000 throughout the year to deserving junior members to aid in their academic endeavors.
###
The 2023 VitaFerm® Junior National Hereford Expo, "Mad Dash to the Hereford Bash," was sponsored in part by BioZyme Inc., St. Joseph, Mo. The National Junior Hereford Association (NJHA) is one of the most active junior programs in the country with more than 4,000 members. The NJHA's mission is to create and promote enthusiasm for the breed while providing opportunities through leadership, education and teamwork. For more information about the NJHA, visit JrHereford.org.