$100,000 IN VANIER FAMILY SCHOLARSHIPS AWARDED TO TEN DESERVING HEREFORD JUNIORS
October 26, 2021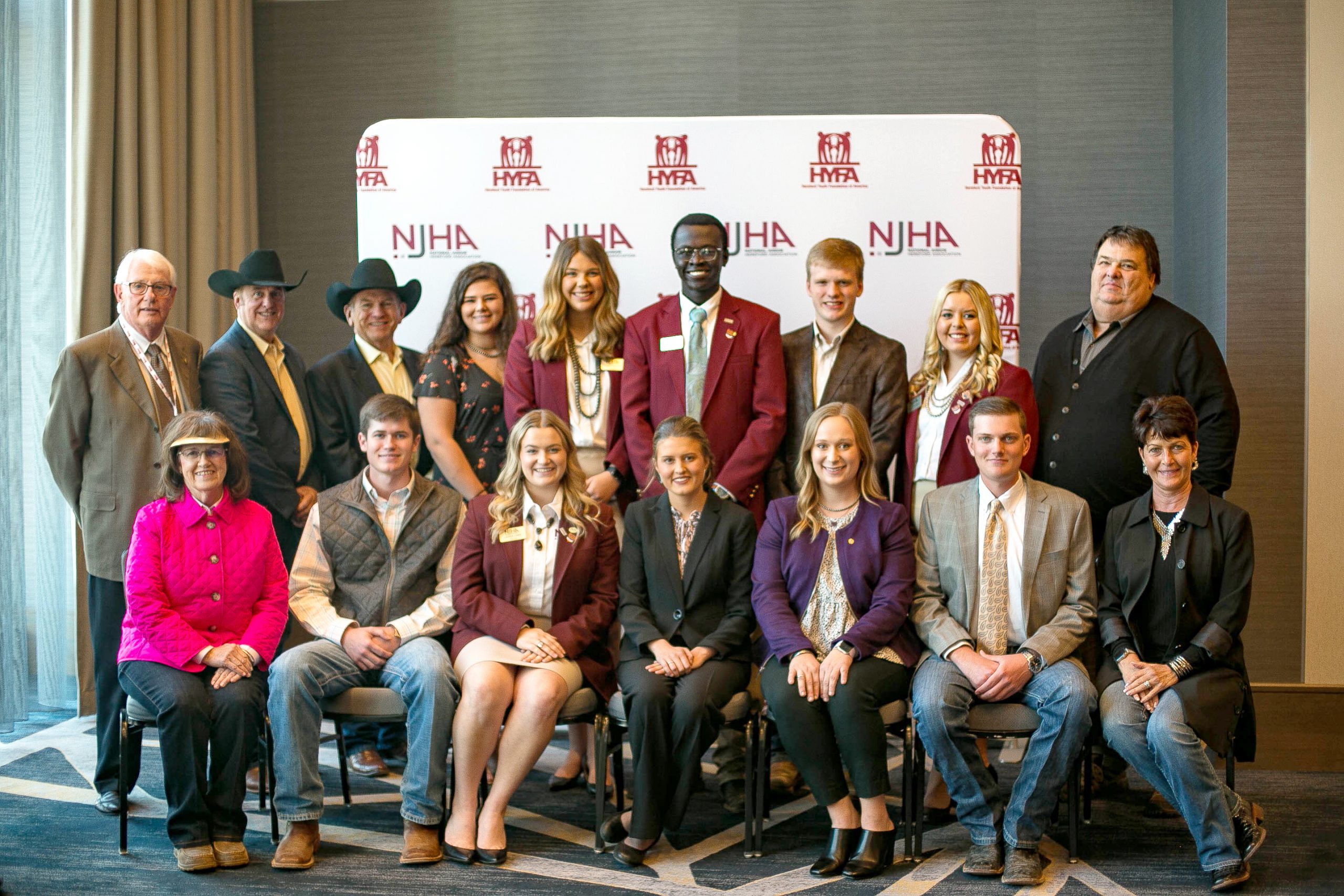 Pictured (back row l to r) are George Sprague, HYFA scholarship committee, Ray Ramsey, HYFA president, Bill King, HYFA board of directors, Regan Mitchem, Vale, N.C., Libby Rushton, Waverly, Tenn., Tar Tut, Faribault, Minn., Rusty Wolf, Alexandria, Ky., Bailey Morrell, Willows, Calif., and Steve Folkman, HYFA board of directors. (Front row l to r) Kathy Buchholz, HYFA scholarship committee, Jacob Johnson, Ruth, Miss., Lauren Jones, Darlington, Wis., Madison Sifford, Goldvein Va., Molly Biggs, Dixon, Ill., Trevor Johnson, Centerville, S.D., and Jill Bielema, HYFA scholarship committee.
KANSAS CITY, Mo. — High achieving Hereford youth were awarded numerous scholarships during the 2021 American Hereford Association Annual Meeting and Conference in Kansas City, Mo., on Oct. 22. In a special awards ceremony, the Hereford Youth Foundation of America (HYFA) and its army of donors proudly awarded $160,000 in scholarships to 24 National Junior Hereford Association members to help support their higher-education goals.
Ten scholarships of $10,000 are given by the Vanier Family for a total of $100,000 in HYFA scholarships annually. Jack and the late Donna Vanier and family of CK Ranch in Kansas have paved the way for Hereford Youth to further their education and this year marks a $600,000 commitment to education from the Vanier family. The Vanier family is proud of the National Junior Hereford Association (NJHA) members and believes the work ethic young people learn growing up in the Hereford breed sets them apart in today's workforce.
The 2021 Vanier Scholarship recipients are:
Molly Biggs of Dixon, Ill., a sophomore at Kansas State University, is double majoring in agricultural communications and animal science. This scholarship will help further her education with the hopes of one day working with producers and educating the public about agriculture. She has worked at various cattle operations and sales, such as Spinazola Cattle and Happ Herefords, and interned with the Illinois Hereford Association.
Jacob Johnson from Ruth, Miss., is a junior at Kansas State University, having transferred from Eastern Oklahoma State College with his associates in agriculture-animal science. He strives to be the best he can be in everything he does, despite the uncertain future, choosing to work hard to excel in life and career.
Trevor Johnson, Centerville, S.D. is a sophomore at Butler Community College, majoring in agribusiness. He believes the most effective way to lead is to know what the people around you are going through. Hard work has never intimidated him, and neither has a challenge; he never expects someone to do something that he wouldn't do himself. Upon graduating from Butler, he wants to pursue a bachelor's degree and has not ruled out the possibility of graduate school.
Lauren Jones of Darlington, Wis., is a freshman at Oklahoma State University, double majoring in animal science and agriculture communications. If the past two years have put anything into perspective for her, it would be to grab any opportunity possible and do your best to accomplish goals because tomorrow isn't promised. These were driving forces that pushed her to run for the NJHA board and to move to Oklahoma to pursue her dreams.
Regan Mitchem from Vale, N.C., is a junior in animal science, with a pre-veterinary focus at North Carolina (NC) State University. She aspires to attend the NC State College of Veterinary Medicine and then return home to expand her mom's small animal veterinary practice to include more livestock reproductive services. In veterinary school she will focus on livestock reproduction, using her personal experience in the cattle industry, veterinary internships, practice, and research experiences to meet the need for veterinary reproductive services.
Bailey Morrell from Willows, Calif., is a senior at Colorado State University, studying agricultural education/agricultural literacy. She intends to pursue law school in California after earning her undergraduate degree, promising to serve agriculturalists with honesty and integrity when fighting for our water and our future. She refuses to let this trying time make her anything but stronger and more dedicated to the future of agriculture.
Libby Rushton, Waverly, Tenn., is a sophomore at the University of Tennessee, Martin, majoring in agricultural business. Her family resides and farms in Humphreys County, Tennessee, that was hit with devastating flash floods on August 21, 2021, losing 100% of their row crop operation, and one-third of the corn and soybean crops. As a single income family relying solely on the row crop and cattle operation, her family will greatly feel the loss of income in the coming year, but even with the hardships faced, she will forever be fighting for the future of the agriculture industry.
Madison Sifford of Goldvein, Va., a sophomore attending Virginia Polytechnic Institute and State University and majoring in dairy science, plans to attend law school post-graduation. She feels the changes over the past two years have encouraged her to grow and become a more well-rounded person. Sifford hopes these changes will help her to bring people closer together in the future. She will know how different people from different walks of life think and feel.
Tar Tut from Faribault, Minn., is a junior at Texas A&M University, majoring in agriculture communications and aspiring toward a master's in international communications. As a first-generation American citizen his top priority is to earn a college education. He takes pride in knowing that what he has gone through growing up and how hard he has had to work for success will only further push him to overcome any national or worldwide challenges that are bound to arise.
Rusty Wolf, Alexandria, Ky., is currently a junior at the University of Kentucky, majoring in animal science and minoring in plant and soil science. He has worked at the University of Kentucky's beef unit for two years and continues to grow his responsibilities. Wolf plans to become an Extension agent for the University of Kentucky upon graduation, while also fulfilling his lifelong dream to carry on in the purebred Hereford business and enhancing their operation.
The scholarship fund is the cornerstone of HYFA and countless youth are the benefactors of its mission. This last fiscal year, the foundation celebrated net assets reaching an all time high of 5.4 million dollars and $186,000 was given back to Hereford youth to assist with their college educations.
###
The Hereford Youth Foundation of America (HYFA) was established in 1986 and is a not-for-profit 501(c)(3) corporation dedicated exclusively to scholarship and educational support of youth in the business of raising Hereford cattle. The mission of the Hereford Youth Foundation of America is to encourage, recognize and reward the development of life skills and values in the next generation of leaders by providing education, scholarship and leadership opportunities for Hereford Youth.