HEREFORD YOUTH FROM ACROSS THE COUNTRY FOCUS ON HOW TO IMPROVE THEMSELVES AT FACES OF LEADERSHIP
August 9, 2021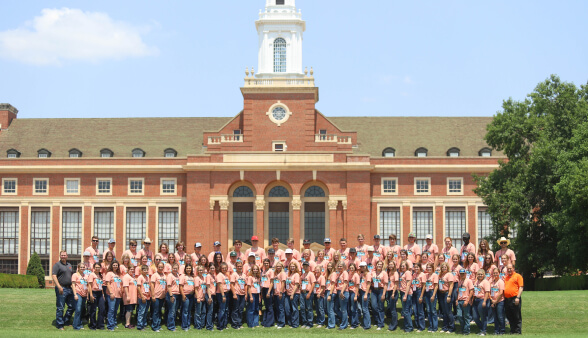 National Junior Hereford Association Members attending the 2021 Faces of Leadership spent a day on the campus of Oklahoma State University learning, leading and hearing about the latest technology in the industry when it comes to cow herd efficiency, marketing, beef quality and social media.
KANSAS CITY, Mo. — On July 28-31, 81 members of the National Junior Hereford Association (NJHA) from 22 different states attended Faces of Leadership in Oklahoma City, Okla., to learn about innovations in the industry and how to improve themselves as better leaders.
After a scheduling issue that almost derailed the conference, it was relocated from Columbus, Ohio to Oklahoma City and the focus was to bring junior members together to help them find their why, become a better version of themselves and "Improve You."
In the opening session, attendees enjoyed motivational speaker, Kelly Barnes, talking about "Finding Your Why," followed by an evening of leadership mixers and workshops led by the NJHA Board. A highlight on the schedule was a day on campus at Oklahoma State University visiting the Range Cow Research Center to learn about cow herd efficiency and the Purebred Beef Center to focus on using all of the tools available when it comes to seedstock marketing. Campus sessions also included a message about telling your story from the agriculture communications department as well as a taste and tenderness panel at the Food Animal Processing Center.
An evening at Express Ranches, Yukon, was another highlight along the way and the final day was spent discovering Oklahoma City and discovering individual leadership styles. Attendees got to walk across the catwalk at the historic Oklahoma National Stock Yards and got a close up look at what goes on behind the scenes at the world's largest stocker and feeder cattle market and last national stockyards in the country. Faces of Leadership participants had the opportunity to hear from the staff at the Oklahoma Youth Expo, Cattlemen's Congress and the Oklahoma Cattlemen's Association. In this panel discussion was a very inspiring message for the young attendees about how to be successful as a young leader in the industry, and at the same time continue to push the industry forward in the nation.
The closing evening, Aric Jackson's keynote message to "Live Boldly" and his innovative approach to leadership was not lost on the juniors as he reminded them to not be scared to make a difference and that their futures are now. "Don't be scared to do you and don't be scared to do you unapologetically," Jackson concluded.