NEW NJHA BOARD MEMBERS ELECTED IN THE MAROON JACKET
July 20, 2020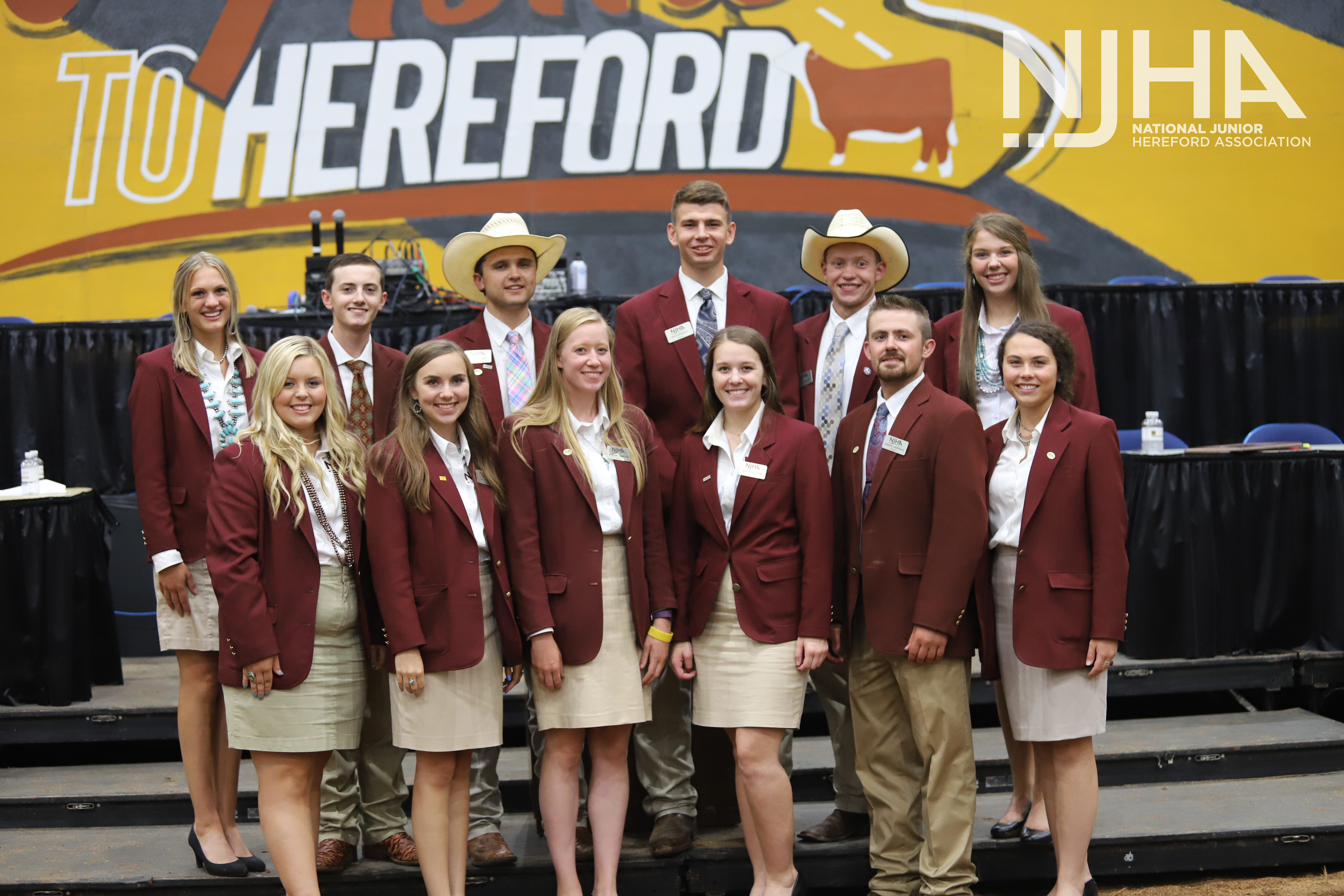 KANSAS CITY, Mo. - Four National Junior Hereford Association (NJHA) members were elected to the National Junior Hereford Association (NJHA) board of directors at the 2020 VitaFerm® Junior National Hereford Expo (JNHE) July 10-15 in Kansas City, Mo.
JW Cox, Flemingsburg, Ky.; Lauren McMillan, Tiskilwa, Ill.; Ralston Ripp, Kearney, Neb.; and Libby Ruston, Waverly, Tenn., were all welcomed into their maroon jackets as new NJHA directors during the JNHE awards ceremony on July 14. Two delegates from each state junior Hereford association voted for the individuals they wanted to represent the membership. The NJHA board is comprised of 12 individuals who serve three-year terms and govern the 3,500-member organization.
The 2020-21 officer team includes chairman Montana Lawrence, Princeton, Minn.; vice-chairman Abby Spindle, Moriarty, N.M.; communications chair Bailey Morrell, Willows, Calif.; leadership chair Luke Daniels, Dalhart, Texas; fundraising chair Noah Benedict, Dewey, Ill.; and membership chair Wyatt Lawrence, Princeton, Minn. Also serving as directors are Brooklyn Adam, Lathrop, Mo. and Samuel Lawrence, Avilla, Ind.
Four NJHA board members handed over their maroon jacks after giving their retiring addresses. Retiring board members include 2019-20 chairman Taylor Belle Matheny, Mays Lick, Ky, 2019-20 vice chairman Rylee Barber, Channing, Texas, 2019-20 communications chair, Hannah Williams, Kearney, Neb., and 2019-20 director Brandt Downing, Culver, Ore.
JW Cox is the 18-year-old son of John and Shane Moran from Flemingsburg, Ky., and is attending Western Kentucky University with plans to transfer to Oklahoma State University to finish up an animal science degree and apply to vet school. He hopes to then attend Colorado State University to receive his doctor of veterinary medicine degree. JW has enjoyed the connections and friendship he has made while being a member of the NJHA. He was active in his FFA chapter and is a member of the Alpha Gamma Rho fraternity.
Lauren McMillan is the 18-year-old daughter of Kyle and Jodi McMillan from Tiskilwa, Ill., and is currently attending the University of Illinois Urbana-Champaign and majoring in organization and community leadership. Lauren has been an active member of the Illinois Junior Hereford Association and has served as vice president, secretary, awards chairman and director. She has been involved in student council, 4-H and FFA and has held several leadership roles in each program. Lauren has also been attending the NJHA Faces of Leadership conference for the last five years.
Ralston Ripp is the 19-year-old daughter of Cody and Ronette Heinrich from Kearney, Neb., and is a sophomore at the University of Nebraska — Lincoln majoring in animal science and agribusiness. Ralston is currently the vice president of the Nebraska Junior Hereford Association. In the past she has held the office of secretary, reporter, historian and director. Ralston was also the 2018 Nebraska State Hereford Queen and National Hereford Queen candidate. In high school, she was very active in FFA and 4-H.
Libby Rushton is the 18-year-old daughter of Lee and Andrea Rushton from Waverly, Tenn., and is a freshman at the University of Tennessee – Martin and majoring in agricultural business and political science. In the future, she hopes to represent an agriculture based company or organization in the public relations or political field. She has held a variety of offices and leadership roles through her involvement in the Middle Tennessee Hereford Association, 4-H and FFA. The fourth generation Hereford breeder hopes to always maintain a presence in her family's operation.