2021 JOHN WAYNE MEMORIAL SCHOLARSHIP AWARDED
July 14, 2021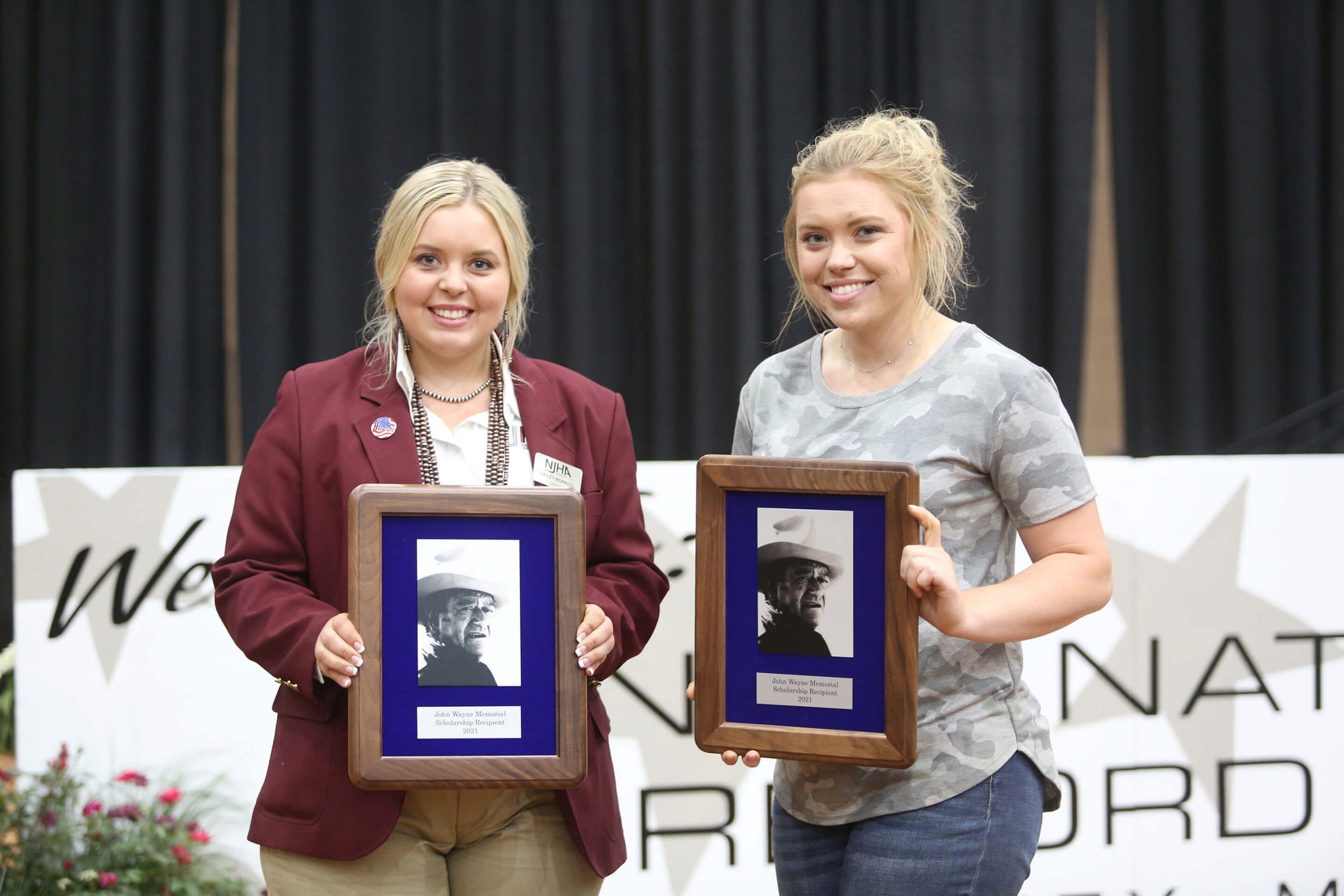 Bailey Morrel, Willows, Calif. and Malina Lindstrom, Elm Creek, Neb., were the recipients of the 2021 John Wayne Memorial Scholarship at the 2021 Junior National Hereford Expo.
KANSAS CITY, Mo. — Outstanding Hereford youth were awarded numerous scholarships during the 2021 VitaFerm® Junior National Hereford Expo (JNHE) Hereford Spectacular Awards Ceremony, in Kansas City, Mo., on July 8. The Hereford Youth Foundation of America (HYFA) and the National Hereford Women awarded $28,000 alone at this year's JNHE, and will award a total of $200,000 in 2021 to deserving junior members to aid in their academic endeavors.
Two of the prestigious scholarships were the John Wayne Memorial Scholarships that are awarded each summer to two college students who have made outstanding contributions to the agriculture industry and Hereford breed. They are awarded in remembrance of John Wayne who was a legendary actor, agriculturalist, and Hereford breeder.
The 2021 John Wayne Memorial $1,000 Scholarships are awarded to the following individuals.
John Wayne Memorial Scholarship Recipients
Malina Lindstrom, Elm Creek, Neb.
Bailey Morrell, Willows, Calif.
Malina Lindstrom
Malina is a junior at the University of Nebraska at Lincoln, pursuing degrees in animal science and agricultural communications with a minor in Nebraska beef industry scholars. She plans to enroll in artificial insemination school as well as start her own livestock marketing business. She says the National Junior Hereford Association (NJHA) has taught her the leadership and communication skills she needs to be successful and she would not be the person she is today without the Hereford breed and the NJHA.
Bailey Morrell
Bailey is a third-year student at Colorado State University earning her bachelor's degree in agricultural education with a concentration in agricultural literacy and political science, and a concentration in environmental politics and policy. She plans to return to the family ranch to raise the fourth generation and continue to improve their reproductive technologies and selection, while also pursuing a law degree upon graduation with her bachelor's. Bailey is thankful for the unique opportunities provided by the NJHA and knows these memories will stay with her forever.