WESTERN STATES ENDOW MEMORIAL SCHOLARSHIP IN HONOR OF WILLARD WOLF
December 10, 2021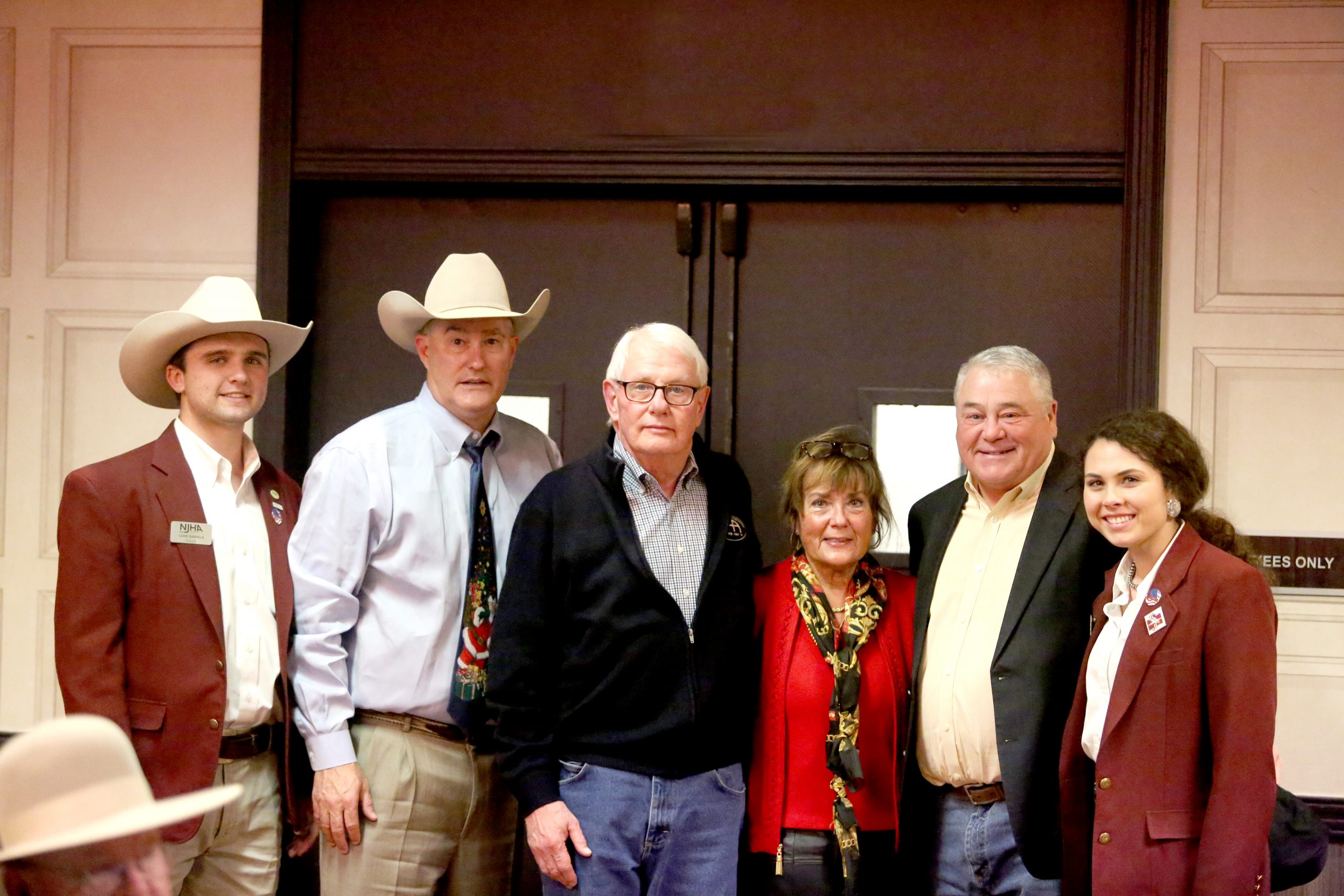 Front row (l to r): National Junior Hereford Association (NJHA) Board Member Luke Daniels; Butch Booker, Colfax, Wash.; HYFA Vice President, George Sprague; Patty Wolf, Valleyford, Wash.; American Hereford Association President, Bruce Everhart and NJHA Board Member, Ralston Ripp.
KANSAS CITY, Mo. — The Western States National Hereford Show, hosted in Reno, Nev., Dec. 1-4, held a special fundraiser to honor the late Willard Wolf, a recognized name in the Hereford breed and American Hereford Association (AHA) northwest field representative for 33 years. A massive fundraising effort took place at the Hereford Reno Sale as breeders, showmen and cattlemen alike raised their paddles and raised the bid to ensure a worthy endowment was started in Wolf's memory. After the gavel dropped for the final time, more than $50,000 was generated for the Hereford Youth Foundation of America (HYFA), to ensure the start of a scholarship in Wolf's name and to carry out his Hereford legacy.
Willard Wolf is a past inductee into the Hereford Hall of Merit and holds a special place in the hearts of Western Hereford breeders. "Over the decades, Willard and his wife Patty were influential in the Western Nugget Reno show and sale and it is only fitting his memory lives on through this scholarship that will support Hereford youth for generations to come," says Amy Cowan director of youth activities and foundation for the AHA. "A huge thank you is in order to all who orchestrated this fundraising effort and contributed to such a special cause in Reno. HYFA will be contributing $10,000 to the endowment, making this a $60,000 fund in Willards name," Cowan adds.
The Willard Wolf scholarship will be dedicated to Hereford juniors from the western states and the first scholarship will be awarded in 2022, continuing the legacy that Wolf started. Thank you to all donors and supporters who ensured this momentous endowment could be made. If you wish to donate in Willard's memory, please send a check to WSHA, P.O. Box 8126, Reno, NV 89507. All funds will be managed by HYFA and the scholarship will be coordinated by the Western States Hereford Association.
Thank You to the Willard Wolf Scholarship Endowment Contributors:
Schohr Herefords, Carl and Steven Schohr, Gridley, Calif.
Bar One Ranch, George and Karen Sprague, Eugene, Ore.
Colyer Herefords, Bruneau, Idaho
David Park Family, Minden, Nev.
Butch Booker, Colfax, Wash.
Harrell Herefords, Baker City, Ore.
Genoa Livestock, Minden, Nevada
Dewar Farms, Bakersfield, Calif.
Morrell Ranches, Willows, Calif.
Brian Gallagher, Enumclaw, Wash.
Bruce Everhart, Waldron, Ind.
Sonoma Mountain Herefords, Santa Rosa, Calif.
GKB Cattle, Waxahachie, Texas
Todd Tippet, Fort Worth, Texas
Skaar Wetland Solutions, Kuna, Idaho
JBB/AL Herefords, Gooding, Idaho
Peggy Potter, Winton, Calif.
Ray Shaffer, La Quinta, Calif.
Rogers Herefords, Eatonville, Wash.
Holt Family Cattle, Caldwell, Idaho
Sue Hoffman, Reno, Nev.
Wilcox & Family Cattle Co., Spangle, Wash.
Santos Hereford Ranch, Hilmar, Calif.
MacFarlane Livestock, Cottonwood, Calif.
Snedden Herefords, Maricopa, Calif.
Pomi Ranch, Petaluma, Calif.
Homestead Cattle Company and Tree Farm, Napavine, Wash.
Wooden Shoe Farms, Blackfoot, Idaho
Paul Bramschreiber, Menominee, Mich.
Black Hills Herefords, Olympia, Wash.
Silver Fir Farms, Lynden, Wash.
Scott Downing, Culver, Ore.
Perez Cattle Co., Nara Visa, N.M.
Amy Cowan, Kansas City, Mo.
Brumley Farms, Orovada, Nev.
Harfst Herefords, Jacksonville, Ore.
Bradford Herefords, Livermore, Calif.
Allison Hay and Herefords, Boardman, Ore.
Lassen Ranch Flowers, Petaluma, Calif.
Daniels Hereford Ranch, Malad, Idaho
Cache Cattle & Commodities, Wellsville, Utah
Micheli Herefords, Fort Bridger, Wyo.
Horizon Hay, Ellensburg, Wash.
Dave and Lynda Bird, Halfway, Ore.
Wunschel Ranch, Plymouth, Calif.
Jared Patterson, Middleton, Idaho
Travis Johnson, Oakdale, Calif.
Mark Holt, Vale, Ore.
Kaitlin Dores, Gustine, Calif.
G5 Syndicate, California
Rocky Ridge Cattle, Boise, Idaho
John Sphahr, Oakdale, Calif.