Brumley Farms Joins the Foundation 1 Campaign with Lot 1 in the Western States Hereford Sale
December 7, 2022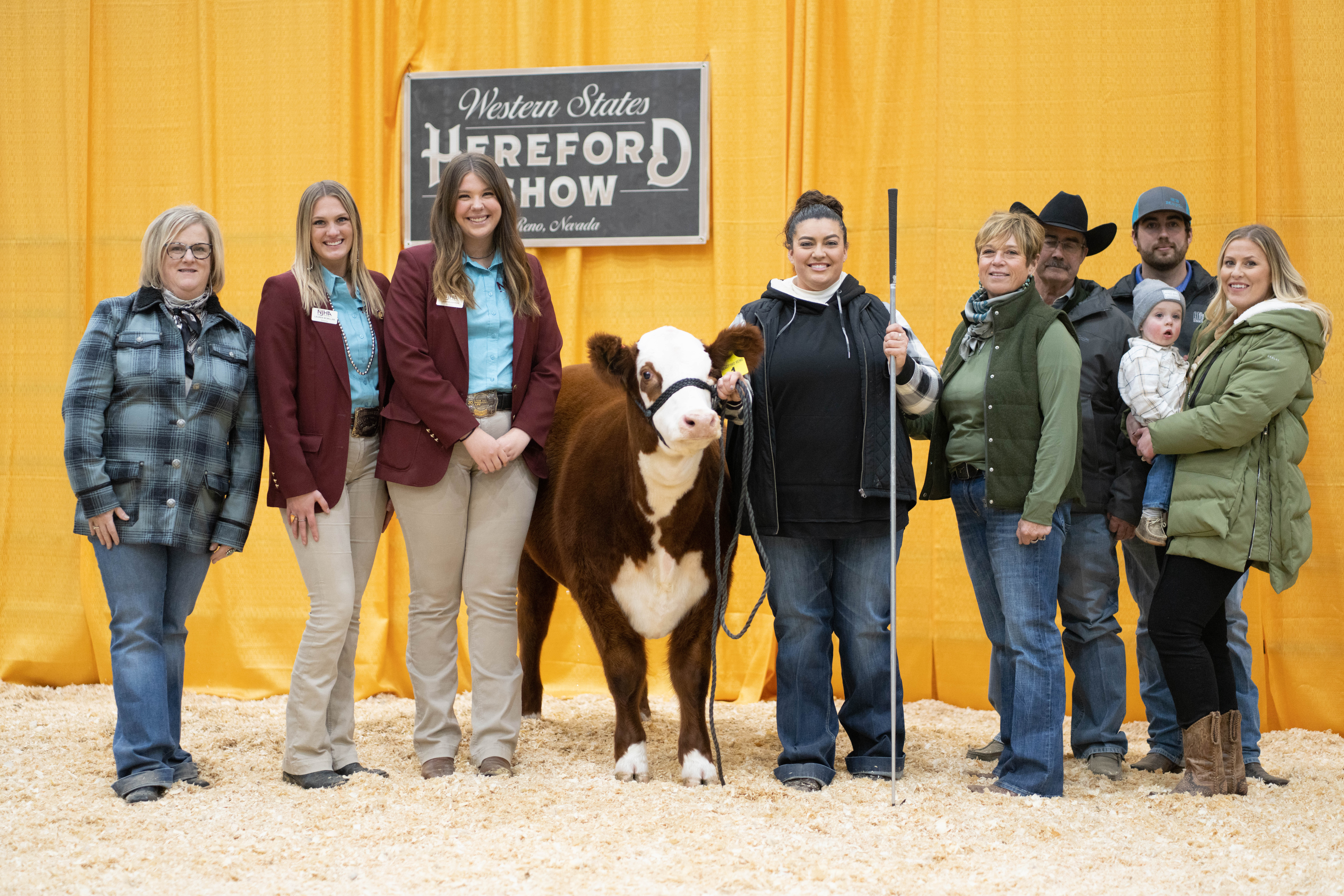 KANSAS CITY, Mo. — The Western States Hereford Sale was held Dec. 2, 2022 with a special Lot 1. Brumley Farms, Orovada, Nev., chose to donate 50 percent of the proceeds from the heifer sold in Lot 1 to the Hereford Youth Foundation of America (HYFA), making them the next to join the Foundation 1 Campaign. The Foundation 1 Campaign was initiated with the intent that a percentage of sale proceeds would be donated to HYFA as a way for organizations, families and ranches to support the Hereford youth and the future of the breed.
Brumley Farms donated BF 8029 9037 Emma 232K into the sale, which was purchased by Sierra Ranches owned by Tim and Kara Coleman of Modesto, Calif., for $13,000. The SR Rio Bravo 8029 ET daughter went on to show in the Western States Open Hereford Show the following morning, coming out of her class to win the horned spring heifer calf division.
HYFA would like to thank Brumley Farms for stepping up to the plate and giving one of their best and Sierra Ranches for their unwavering support of the Foundation 1 Campaign. Both of them have shown their dedication to the Hereford youth and the mission of the foundation as their donation will continue building the pillars for scholarship, leadership, education and research.
###
The Hereford Youth Foundation of America (HYFA) was established in 1986 and is a not-for-profit 501(c)(3) corporation dedicated exclusively to scholarship and educational support of youth in the business of raising Hereford cattle. The mission of the Hereford Youth Foundation of America is to encourage, recognize and reward the development of life skills and values in the next generation of leaders by providing education, scholarship and leadership opportunities for Hereford Youth.