Two Scholarships Awarded From the Hereford Youth Foundation of America
October 23, 2022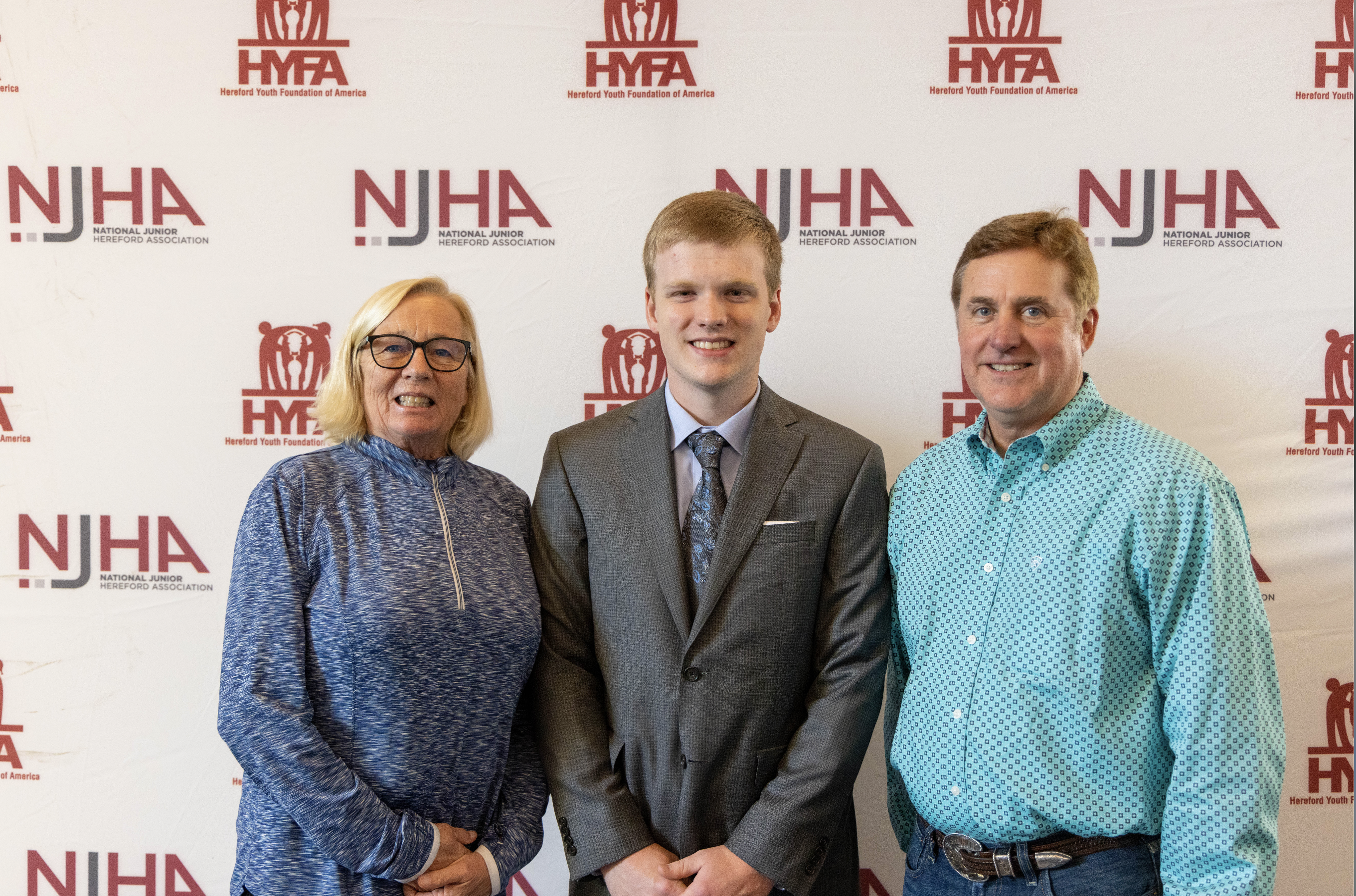 Nancy Keilty, Cedar, Mich., of the HYFA Scholarship Committee present Rusty Wolf, Alexandria, Ky., with one of the two $2,500 HYFA Scholarships alongside HYFA President, Ray Ramsey, Greenfield, Ind.
KANSAS CITY, Mo. — High achieving Hereford youth were awarded numerous scholarships during the 2022 American Hereford Association Annual Meeting and Conference in Kansas City, Mo., on Oct. 21. In a special awards ceremony, the Hereford Youth Foundation of America (HYFA) and its donors proudly awarded $165,000 in scholarships to 28 National Junior Hereford Association (NJHA) members to help support their higher education goals.
The HYFA Scholarship is a $2,500 scholarship designed to provide recognition for outstanding members of the National Junior Hereford Association and encourages individual and cooperative effort, enthusiasm, excellence, leadership, academic success and achievement.
The 2022 HYFA Scholarship recipients are:
Rusty Wolf, Alexandria, Ky.
Bailey Morrell, Sacramento, Calif.
Rusty Wolf is the son of Tim and Peggy Wolf and a senior at the University of Kentucky where he is majoring in animal science and minoring in plant and soil science. As a first generation college student, he is dedicated to his education and looks forward to the future. He previously held an internship with the Kentucky Cooperative Extension Service and it solidified his career choice of wanting to be an extension agent.
Bailey Morrell is a recent graduate of Colorado State University and is currently attending the University of the Pacific, McGeorge School of Law. She lives her life knowing that interactions, conversations and relationships with others will be better received if they come from a place of kindness and understanding, and hopes to carry those traits throughout her life.
The scholarship fund is the cornerstone of HYFA and countless youth are the benefactors of its mission. This last fiscal year, the foundation celebrated net assets reaching nearly $5 million and in total $185,000 was given back to Hereford youth to assist with their college educations.
###
The Hereford Youth Foundation of America (HYFA) was established in 1986 and is a not-for-profit 501(c)(3) corporation dedicated exclusively to scholarship and educational support of youth in the business of raising Hereford cattle. The mission of the Hereford Youth Foundation of America is to encourage, recognize and reward the development of life skills and values in the next generation of leaders by providing education, scholarship and leadership opportunities for Hereford Youth.